Financial Numbers Made Easy
IBF Accredited 1 Day Workshop
Date: TBD
9:30am – 5:30pm
Course Fee: $899
After IBF Subsidy: $89.90
Virtual Classroom (Zoom)
IBF Course Code: P210210TMT

Click HERE to register
If a client tells you that an investment property with rentals has higher returns than X investment, how do you objectively quantify them?
How about CPF LIFE vs Retirement Income policy? How do you compare investments with different time periods and different cash flows? 
This program provides participants (financial advisers, financial planners, financial services managers, bankers) with the know-hows and skills to apply time value of money and use of spreadsheet & financial charting to solve financial problems faced by their clients.
Learning Objectives & Outcomes: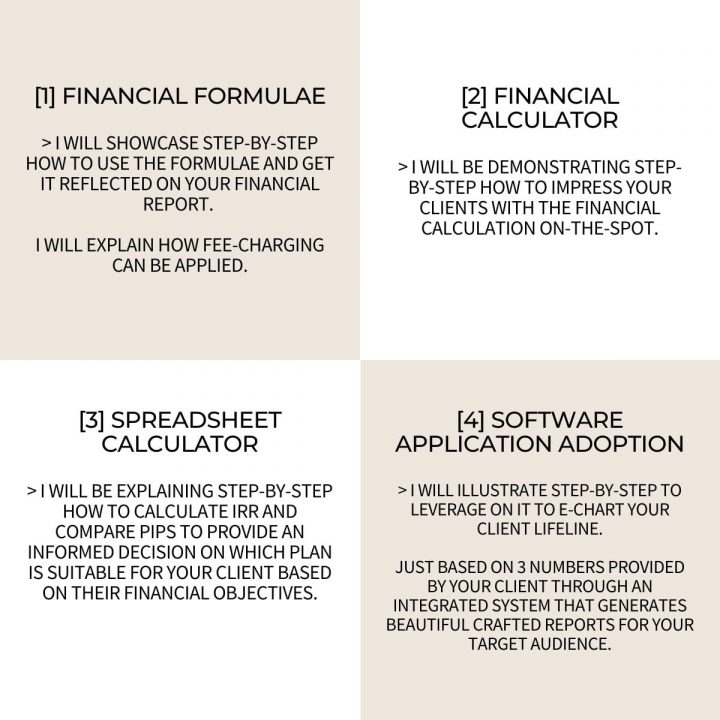 By the end of the program, participants will be able to:
Understand Time Value of Money

Understand the role of interest

Understand what is Opportunity Cost

Explain simple

interest and compound interest

Differentiate between Compounding and Discounting

Understand and apply Rule of 72
Future Value of a Single Sum
Present Value of a Single Sum
Ordinary Annuities & Annuities Due
Uneven Cash flow concept
Internal Rate of Return
Other common time value of money problems
Introductory computer spreadsheet (Excel) application
Show understanding on how to operate financial application software
Able to create the templates using the financial application software
Able to explain the report generated from the financial application software
Financial Numbers Made Easy
Limited to 40 pax. Book your seat fast!
Date: 29 Oct 2021
9:30am – 5:30pm
Course Fee: $899
After IBF Subsidy: $89.90
Hock Beng is a financial services practitioner with more than 20 years of experience in the financial advisory services industry. He was a student-adviser while obtaining his Bachelor of Engineering at Nanyang Technological University of Singapore. He has since received numerous accolades and achievements in the industry.
While building his practice, he keeps on learning. Today, to mention a few of his professional qualifications, he is a Chartered Financial Consultant®️, Chartered Life Underwriter®️ and Certified Financial Planner®️. He is an IBF (Advanced) certified, an industry endorsed mark of quality for financial professionals in Singapore.
A strong advocate in financial literacy, he has served in the Committee of Education and Training of Insurance Financial Practitioners Association of Singapore. He was appointed as Honorary Treasurer with The Financial Planning Association of Singapore (FPAS) and during his term, he has served as Examination Board Chair.
During the pandemic lockdown, he has leveraged an online-learning-management system to embrace SmartTech-HighTouch advisory to make learning possible anywhere, anytime. This is essential as he is managing a team of independent financial adviser reps.
He loves to inspire anyone who desires to bring financial planning to the next level.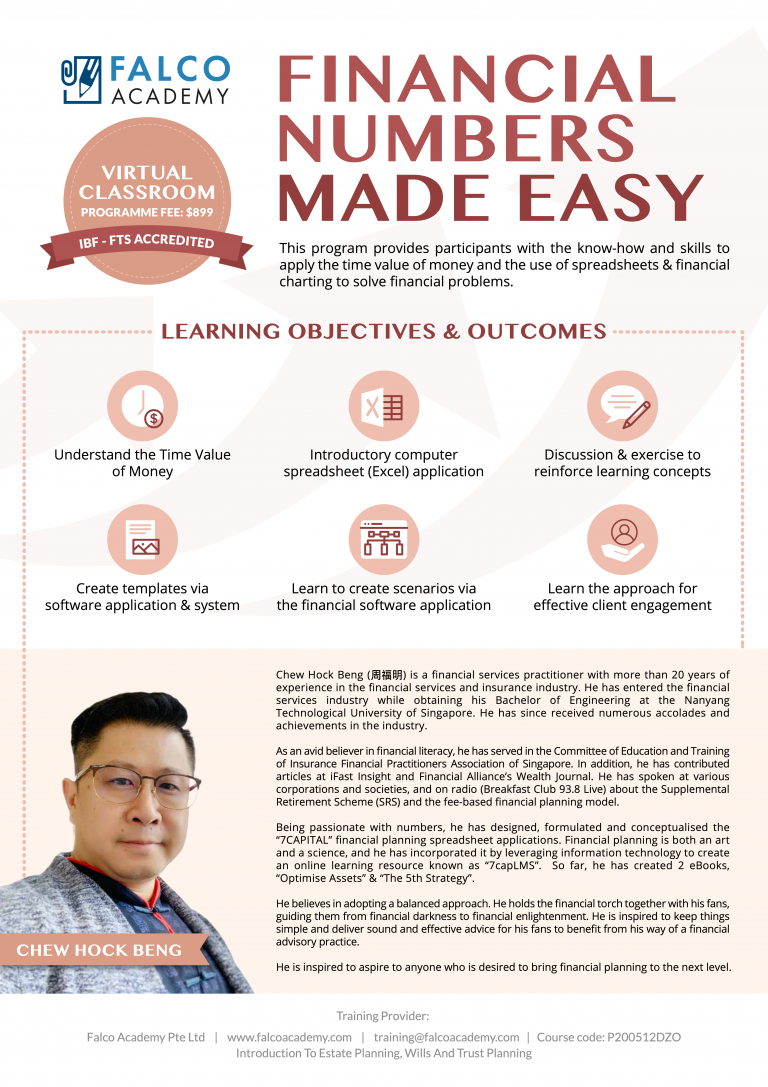 Training Grants & Subsidies
IBF Financial Training Scheme (90%)
IBF course fee subsidies for locals attending accredited or recognised courses up to 90%.
​Training Allowance Grant (TAG)
TAG provides $10 per hour of training. Only for company-sponsored individuals; and
Singapore Citizens or Singapore PRs, physically based in Singapore.

"Hock Beng is a very good trainer and provides very good insights on how to engage clients using creative strategy tools . Picked up many good tips on how to present numbers to clients in an engaging way."
"The workshop has refreshed my perspective of numbers ($) and trainer is very encouraging given his real life experiences as a FA. I am new so I need more of such encouragement."
"Hock Beng kept engaging the class whether there were any questions or feedback. This is good at webinars, (where) participants can get distracted easily."