Retirement Planning And Tax Relief For Clients
Date: 21 Oct 2021
9:30am – 5:30pm
Course Fee: $899
After IBF Subsidy: $89.90
Virtual Classroom (Zoom)
IBF Course Code: P201013WAU

Please click HERE to register
If your clients have incomes > $100k, SRS can benefit them. As a competent FAR, you must have knowledge of SRS to engage these clients. Otherwise, they will go elsewhere. This course will Demystify SRS, explain the pros and cons and coach you on how to engage your clients on the topic of SRS and how it benefits them.
Demystifying SRS aims to provide participants with the know-hows and skills to demystify the rules and adopt the COST framework to build their clients supplementary retirement funds.
To be future-ready, Demystifying SRS is incorporated with web-based application to help practitioners to acquire knowledge & gain skills in order to internalise these values to build their unique financial advisory process.
The Supplementary Retirement Scheme (aka SRS) is part of the Singapore government's multi-pronged strategy to address the financial needs of a greying population by helping Singaporeans save more for their old age. It began in 2001 and is operated by 3 major banks. They are DBS, OCBC & UOB.

The SRS complements the Central Provident Fund (CPF). CPF savings are meant to provide for housing and medical needs and for basic living needs after retirement. Unlike the CPF scheme, participation in SRS is voluntary.
SRS members can contribute a varying amount to SRS (subject to a cap) at their own discretion. The contributions may be used to purchase various investment instruments. And one good reason for contributing to the scheme gets to enjoy tax-relief and hence lead to tax savings.
Investment returns are tax-free before withdrawal and only 50% of the withdrawals from SRS are taxable at retirement.

Completion of Demystifying SRS will strengthen your identity as a financial advisory practitioner who is capable to impart your knowledge to your clients.
Learning Objectives & Outcomes:
By the end of the program, participants will be able to:
Understand & able to apply the COST framework in SRS advisory practice

Explain the importance of tax application through SRS

Simplify the complexity of SRS

Explain & Apply the HEARD Financial Planning Process

Demonstrate the engagement process for fact-finding interview

Describe the timeline pertaining to the client's life stage

Demonstrate and explore opportunity for meaningful interview

Identify the concerns in retirement planning

Learn to search and to interpret the information from data on retirement.

Formulate the retirement income solution using SRS
Recognise the importance of early planning to prevent disappointment
Apply KASH to create an advisory opportunity
Understand how to utilise the financial planning software
Independent study method via applying / leveraging on web-based technology for financial planning
Organise your financial advisory practice
Organise personal value system to formulate advisory practice
Internalise value system to build your advisory practice
Demonstrate understanding and application through case studies
Demonstrate and explore opportunity for meaningful client engagement interview through online & offline communication
Learn to build a rainbow retirement chart to explain the retirement advisory via software application
Appreciate the importance of leveraging technology to create scenarios planning.
Redefine the way your client experience retirement planning through interactive chart
Differentiation in creating value through applying time value of money for fee advisory opportunity
Limited to 40 pax. Book your seat fast!
Date: TBD
9:30am – 5:30pm
Course Fee: $899
After IBF Subsidy: $89.90
Hock Beng is a financial services practitioner with more than 20 years of experience in the financial advisory services industry. He was a student-adviser while obtaining his Bachelor of Engineering at Nanyang Technological University of Singapore. He has since received numerous accolades and achievements in the industry.
While building his practice, he keeps on learning. Today, to mention a few of his professional qualifications, he is a Chartered Financial Consultant®️, Chartered Life Underwriter®️ and Certified Financial Planner®️. He is an IBF (Advanced) certified, an industry endorsed mark of quality for financial professionals in Singapore.
A strong advocate in financial literacy, he has served in the Committee of Education and Training of Insurance Financial Practitioners Association of Singapore. He was appointed as Honorary Treasurer with The Financial Planning Association of Singapore (FPAS) and during his term, he has served as Examination Board Chair.
During the pandemic lockdown, he has leveraged an online-learning-management system to embrace SmartTech-HighTouch advisory to make learning possible anywhere, anytime. This is essential as he is managing a team of independent financial adviser reps.
He loves to inspire anyone who desires to bring financial planning to the next level.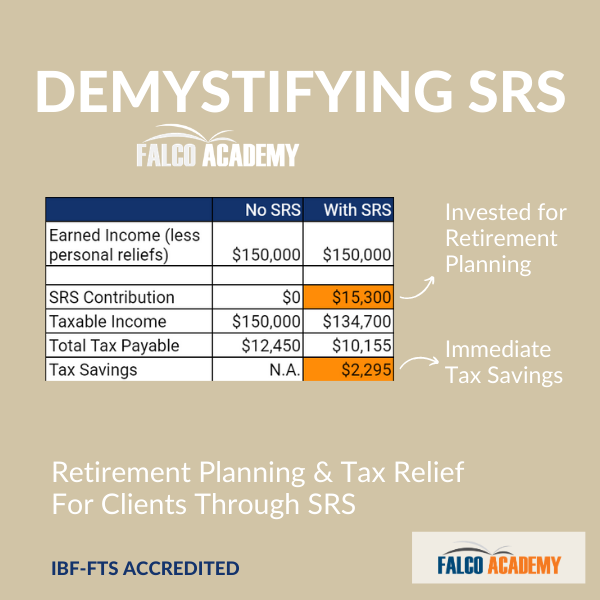 Training Grants & Subsidies
IBF Financial Training Scheme (90%)
IBF course fee subsidies for locals attending accredited or recognised courses up to 90%.
​Training Allowance Grant (TAG)
TAG provides $10 per hour of training. Only for company-sponsored individuals; and
Singapore Citizens or Singapore PRs, physically based in Singapore.