Introduction to Estate Planning, Wills and Trust Planning
Date: TBD
9:30am – 5:30pm
Course Fee: $800
After IBF Subsidy: $80
Virtual Classroom (Zoom)
IBF Course Code: P200512DZO

Designed for FA Reps to enhance their understanding on the legal rules of succession and to equip FA Reps with the knowledge to provide useful and practical advice to their clients on estate planning process, will writing and trust planning.
Learning Objectives & Outcomes:
Upon completion of the programme, the FA Representative will be able to:
Understand the aspects of law that affects the succession process
Engage client effectively on the topic of Estate Planning and identifying
potential issues relating to succession planning
Have a trusted relationship with clients
Formulate appropriate estate plans for clients
Provide a more comprehensive financial planning for clients by including
estate planning
Introduction to Estate Planning, Wills and Trust Planning
Limited to 40 pax. Book your seat fast!
Date: TBD
9:30am – 5:30pm
Course Fee: $800
After IBF Subsidy: $40
Wei Meng is a member of the Society of Will Writers (UK), Bachelor of Laws (LLB), Chartered Life Underwriter, Chartered Financial Consultant (ChFC).
He currently serves as Director, Financial Advisory Services at Financial Alliance Pte Ltd, Singapore's leading and award winning independent financial advisory firm. His primary areas of work include wealth management and financial advisory.
He currently serves as the Legal Counsel to Falco Heritage Pte Ltd, an estate planning firm providing Wills and Trust Services.
He conducts regular training sessions for consultants. He also speaks at clients seminars on subjects relating to Financial Literacy and Succession Planning
LLB (London), MBA (Columbia) Trust & Estate Planning Consultant, Kensington Trust Singapore Limited. Director, Legacy Planners Pte Ltd
In the past 9 years, Keon has worked in licensed trust companies as resident manager, director and estate planning advisor.
He is currently a Resident Manager at Kensington Trust Singapore Limited. He has been providing estate planning training for 8 years, the past 4 years through Legasy Planners Pte Ltd which is a company focused largely on wealth management and estate planning training.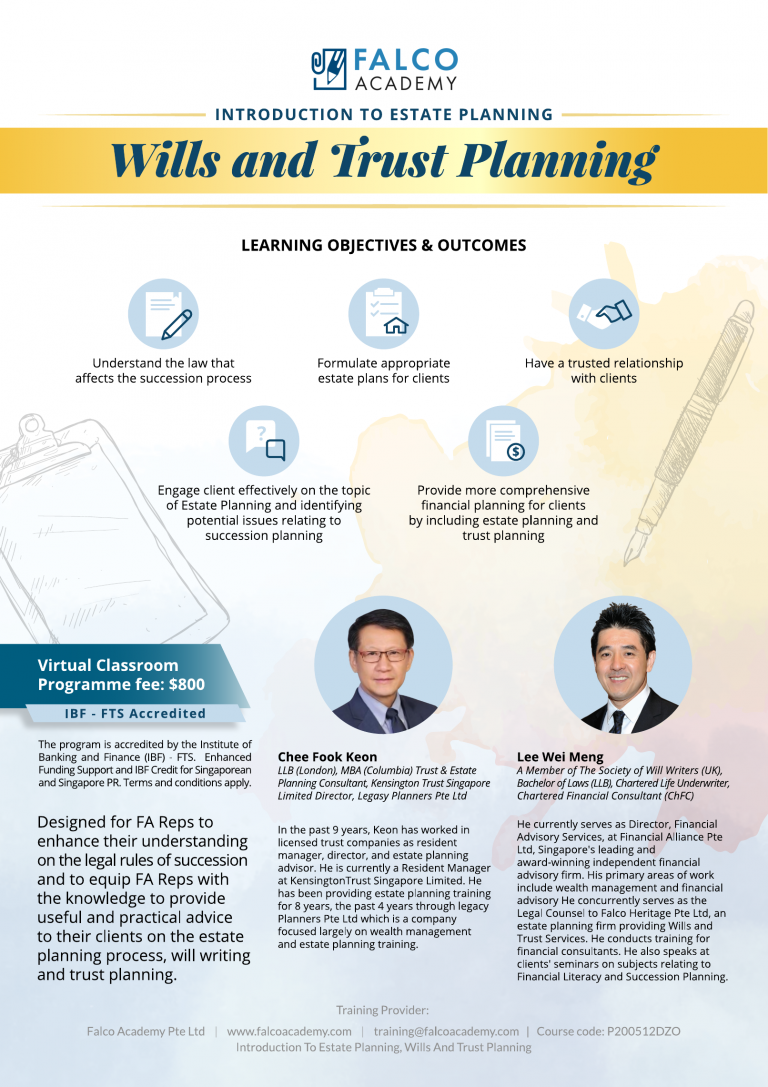 Training Grants & Subsidies
IBF Financial Training Scheme (90%)
IBF course fee subsidies for locals attending accredited or recognised courses up to 90%.
​Training Allowance Grant (TAG)
TAG provides $10 per hour of training. Only for company-sponsored individuals; and
Singapore Citizens or Singapore PRs, physically based in Singapore.