analyse personal financial statement by applying the DOME framework
Date: 27 September 2021
9:30am – 5:30pm
Course Fee: $899
After IBF Subsidy: $89.90
Virtual Classroom (Zoom)
IBF Course Code: P210525TPP

Please click HERE to register
Dollar Insight aims to provide financial practitioners with the know-hows and skills to analyse personal and family financial statement by applying the DOME framework.
Dollar Insight provides guidance to utilise knowledge learned and apply skills to lead financial practitioners to conduct financial analysis. By adopting the DOME framework, financial practitioners will be equipped to apply methodologies that enable to identify gaps to help the client to achieve their financial goals through analysing their financial statements.
Personal tax planning is integral of financial planning. Financial practitioners are able to direct their client to leverage on the available tax deductions to promote and encourage social and economic objectives such as filial piety, family formation and the advancement of skills.

To be future-ready, Dollar Insight is incorporated with web-based application via spreadsheet to help financial practitioners to acquire knowledge & gain skills in order to internalise these values to build their unique financial advisory process.
Completion of Dollar Insight will strengthen the identity as a financial advisory practitioners who are capable to impart your practical knowledge and henceforth to impact your client's financial in a positive way. 
With Dollar Insight, financial practitioners get to acquire Dollar Foresight in order to help 
client to build their Dollar Hindsight! 
Learning Objectives & Outcomes:
By the end of the program, learners get to:
Understand & able to apply the DOME framework in advising personal financial planning.
Apply SMART &/or FAST objective planning.
Explain & Apply the HEARD Financial Planning Process.
Demonstrate the engagement process for fact-finding interview
Describe the timeline pertaining to client's life stage.
Learn to create financial statement.
Simplify the complexity of financial ratios.
Identify the concerns for not saving enough.
Apply the concept of personal budgeting to enhance saving.
Recognise the importance of personal tax planning.
Understand the types of income sources you have to pay tax on.
Learn to interpret the tax rate table and compute tax payable.
Demonstrate and explore opportunity for meaningful interview.
Appreciate the importance of leveraging technology to create scenarios planning.
Understand how to utilise the financial planning software & spreadsheet.
Organise your financial advisory practice.
Internalise value system to build your advisory practice.
Demonstrate understanding and application through guided case studies.
Limited to 40 pax. Book your seat fast!
Date: 27 September 2021
9:30am – 5:30pm
Course Fee: $899
After IBF Subsidy: $89.90
Hock Beng is a financial services practitioner with more than 20 years of experience in the financial advisory services industry. He was a student-adviser while obtaining his Bachelor of Engineering at Nanyang Technological University of Singapore. He has since received numerous accolades and achievements in the industry.
While building his practice, he keeps on learning. Today, to mention a few of his professional qualifications, he is a Chartered Financial Consultant®️, Chartered Life Underwriter®️ and Certified Financial Planner®️. He is an IBF (Advanced) certified, an industry endorsed mark of quality for financial professionals in Singapore.
A strong advocate in financial literacy, he has served in the Committee of Education and Training of Insurance Financial Practitioners Association of Singapore. He was appointed as Honorary Treasurer with The Financial Planning Association of Singapore (FPAS) and during his term, he has served as Examination Board Chair.
During the pandemic lockdown, he has leveraged an online-learning-management system to embrace SmartTech-HighTouch advisory to make learning possible anywhere, anytime. This is essential as he is managing a team of independent financial adviser reps.
He loves to inspire anyone who desires to bring financial planning to the next level.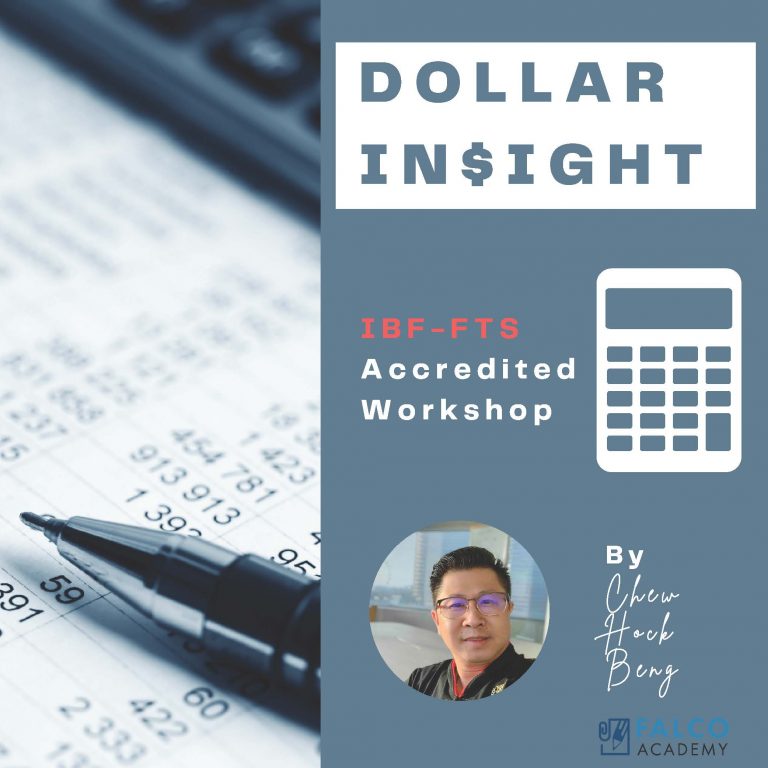 Training Grants & Subsidies
IBF Financial Training Scheme (90%)
IBF course fee subsidies for locals attending accredited or recognised courses up to 90%.
​Training Allowance Grant (TAG)
TAG provides $10 per hour of training. Only for company-sponsored individuals; and
Singapore Citizens or Singapore PRs, physically based in Singapore.