Proven Tactics to Attract Followers from Social Media PLATFORM
Date: TBD
10am – 12pm
Course Fee: $250
After IBF Subsidy: $25
Virtual Classroom (Zoom)
IBF Course Code: P200420BVW

Do you have these pain points?
Getting new leads (Suspects) 😅
Engaging the Suspects and converting them to Prospects 😅
Making  the Prospects like you, trust you and become your clients 😅
This course will show you how to do these effectively, without stepping out of your house, through Digital Marketing
Learning Objectives & Outcomes:
Upon the completion of the course, you will be able to:
Build your Personal Brand

Implement Social Media Marketing Strategies

Conduct Financial Advisory Business the Virtual Way

Cope with business and client-servicing during/post Covid-19

Understand Digital Communication and Digital Sales Engagement
Digital Marketing - Proven Tactics to Attract Followers from Social Media PLATFORM
Date: TBD
10am – 12pm
Course Fee: $250
After IBF Subsidy: $25
Limited to 40 pax. Book your seat fast!
Tang has more than 25 years of experience in the financial services industry in both Malaysia And Singapore.
After he qualified as a Chartered Financial Consultant, he set up a financial advisory practice in 2001 focusing on estate and legacy planning for business owners.
In 2005, he joint venture with the largest Australian financial advisory group and was promoted to Executive Director in 2007. 2 years later, he moved to the SIngapore branch of the Australian firm as the General Manager of Distribution.
In Oct 2012, Tang joined the largest Independent Financial Advisory Firm in Singapore as Director, Business Development and Strategic Partnership.
In June 2014, he successfully launched FA Advisory Sdn Bhd which eventually became one of the leading FA firms in Malaysia.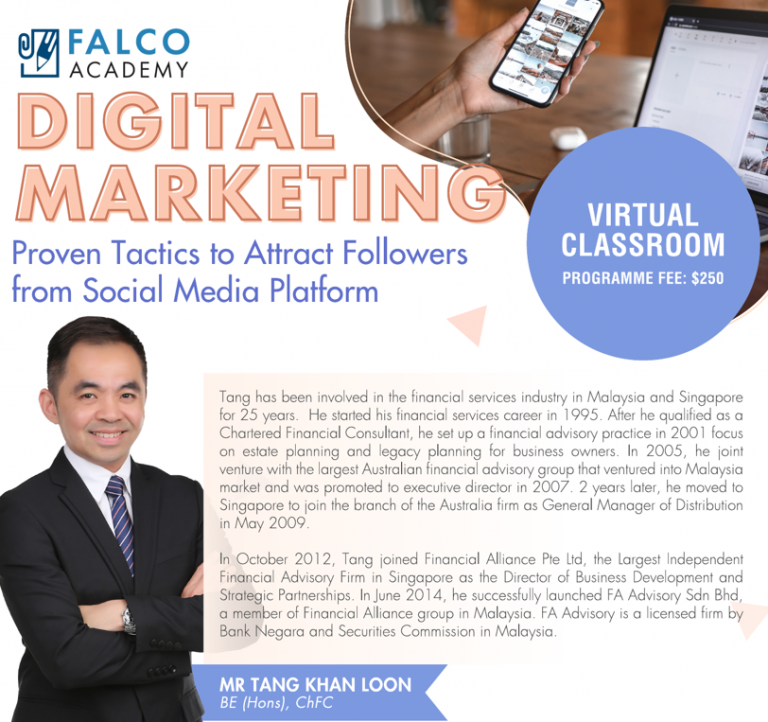 Training Grants & Subsidies
IBF Financial Training Scheme (90%)
IBF course fee subsidies for locals attending accredited or recognised courses up to 90%.
​Training Allowance Grant (TAG)
TAG provides $10 per hour of training. Only for company-sponsored individuals; and
Singapore Citizens or Singapore PRs, physically based in Singapore.
"…useful on how to shortlist the potential client by identifying a specific group/target market that we want to focus on via FB & LinkedIn."
Wee Sian Wen Raymond, FA Rep
"Tang shares his own experience using social media to attract followers. His practical tips on what to post and where to find the right audience is useful."
"The course helped to debunk some myths, provided insights and practical direction, and is useful…"