Business Performance Management
Date: TBD
9:30am – 5:30pm
Course Fee: $1,800
After IBF Subsidy: $180
Virtual Classroom (Zoom)
IBF Course Code: P201218IRV

Please click Here to register
In these disruptive times, it is essential for leaders, managers and consultants in the financial services industry to be resilient, agile with decisions and quick in responding to market demands in order to perform well and produce results.
This interactive 2-day virtual workshop will impart the requisite strategies, skills and tools in a structured, informative and holistic manner in order for financial services professionals to have peak performance in their work and life. Be ready to take your business performance to the next level!
Learning Objectives & Outcomes:
Understand how to manoeuvre through challenges and disruption
Build practical skills for optimum efficiency and productivity
Learn to gather knowledge for advantage
Understand self-leadership and inspire others
Be able to motivate action in self and teams
Track progress and learn to consistently produce results
Who will beneft from this programme?
Insurance Leaders & Managers
Financial Consultants & FA Reps
Teams that are looking for peak performance
Business Performance Management For Financial Services
Limited to 40 pax. Book your seat fast!
Date: TBD
9:30am – 5:30pm
Course Fee: $1,800
After IBF Subsidy: $180
Heralded by the media as "Mental Toughness Expert", YuJin is an award-winning speaker and trainer who is the world's foremost thought leader in peak performance. He is a Certified Mental Toughness Coach (USA), Certified NLP Practitioner, a Certified Hypnotherapist, a Certified TLT (Time Line Therapy) Consultant, an Impact System Coach and a Master Class Trainer.
He is a triple-degree holder and is certified under the International Sports Science Association, one of the top sports performance organizations in the world.
YuJin has his own TV show and has been featured numerous times on TV, radio, newspapers and magazines for his expertise in motivating people. He is the Official Trainer for Miss Universe and Miss World and in 2016, was awarded the Global Brands Icon in Peak Performance by the Global Branding Awards.
As a former lawyer and investment banker working 16-hour days, YuJin brings real world knowledge and experience that produce effective, long-term results.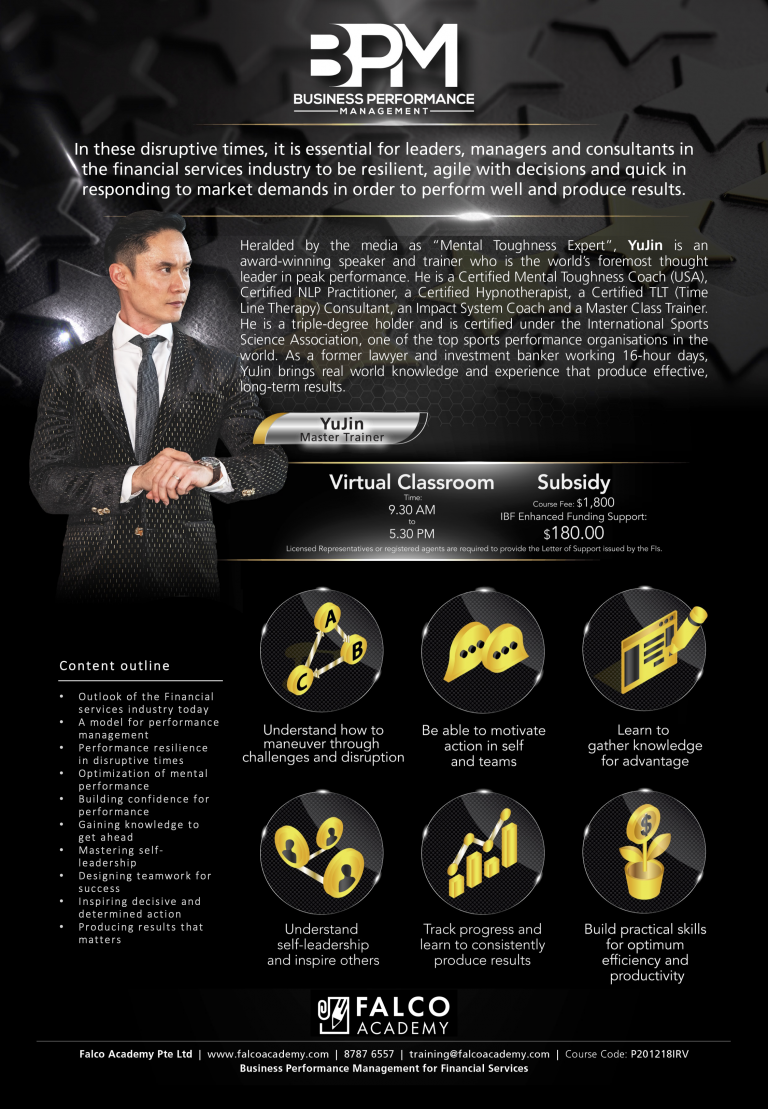 "Clear and organized, YJ prepared himself very well to fully engage us via webinar setting and allows us to have small discussions throughout the session. Great showmanship."
"We need Mentors in our Life, Yu Jin has sunk to the depths of despair and pull himself to rise again like the Phoenix……"
"Everyone must attend this Workshop."