Business Development Mindset
Date: TBD
9:30am – 5:30pm
Course Fee: $999
After IBF Subsidy: $99.90
Virtual Classroom (Zoom)
IBF Course Code: P190823IUD

This workshop is developed and designed by a leading trainer who specialize in mindset strategies for success and peak performance in fund management. This program is structured as a 2-day workshop packed with activities.
Rather than just theoretical learning, varied training methodologies will be adopted to provide a wholesome learning environment. The program applies evidence-based methods that work in the real world of fund management.
Learning Objectives & Outcomes:
By the end of the program, participants will be able to:
Be more resilient and able to maintain peak performance under pressure

Stay calm and relaxed in any high-pressure situation

Focus on performing and ignoring distractions when it matters

Have the self-belief and trust in one's capabilities
Overcome adversities and setbacks well

Give and receive social support to and from others
Business Development Mindset For Fund Management
Date: TBD
9:30am – 5:30pm
Course Fee: $999
After IBF Subsidy: $99.9
Limited to 40 pax. Book your seat fast!
Training Grants & Subsidies
IBF Financial Training Scheme (90%)
IBF course fee subsidies for locals attending accredited or recognised courses up to 90%.
​Training Allowance Grant (TAG)
TAG provides $10 per hour of training. Only for company-sponsored individuals; and
Singapore Citizens or Singapore PRs, physically based in Singapore.

Heralded by the media as "The Peak Performance Guru", YuJin is an award-winning speaker and trainer.
YuJin is a Certified Mental Toughness Coach (USA), Certified NLP Practitioner, a Certified Hypnotherapist, a Certified TLT (Time Line Therapy) Consultant, an Impact System Coach and a Master Class Trainer.
He is a triple-degree holder and is certified under the International Sports Science Association, one of the top sports performance organizations in the world.
YuJin has been featured numerous times on radio, newspapers, and magazines for his expertise in mental toughness and motivation. His work has earned him numerous awards including the Global Brands Icon in Peak Performance, Creative Young Entrepreneur, and Rising Star CEO of the Year.
As a former lawyer and investment banker, YuJin brings real-world experience and examples that empower, engage, and enlightens through his range of keynotes, programs, and workshops.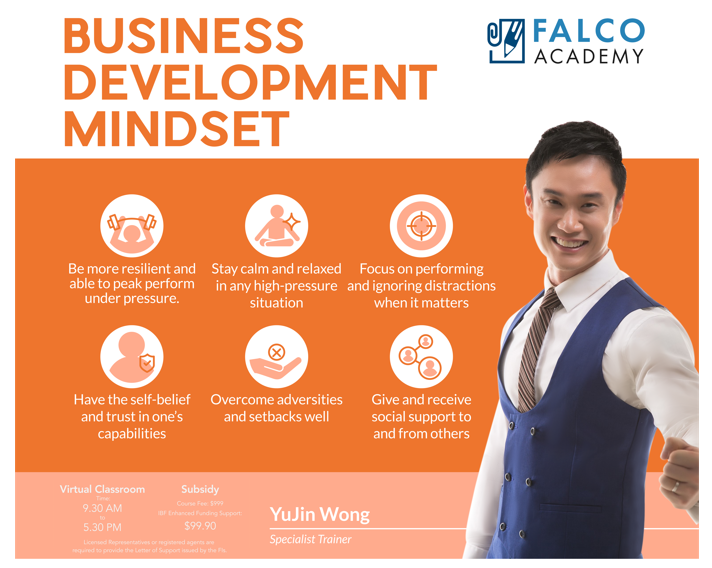 Pavithira Naidu, AIA Consultant
"…really pumped up to run for the last quarter. Everyone should attend it at least once. It's really life changing."
"This is a wonderful program to inculcate mental toughness not just professionally, but in other aspects of one's life.
I would strongly encourage everyone to participate to fine tune and pick up new habits to be a better version of yourself!"
Thames Yeo, Prudential Consultant
"A very meaningful and enriching event. Many things to learn from that is helpful towards entrepreneurs.
Recommended for people who want to get the correct mindset to start or improve their business."